Programme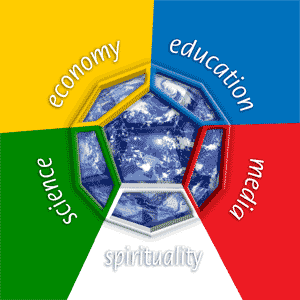 "One of the main aims of the congress will be to raise our awareness to the fact that our bodies and minds depend on the kind of environment we live in: The air we breathe in is our source of life energy, just as the earth we use to grow our food, the water we use to drink, and the clean air, are all raw materials from which we take all our energy. Environmental degradation is damaging our own life, our own source of energy and nutrition" - T.Y.S. Lama Gangchen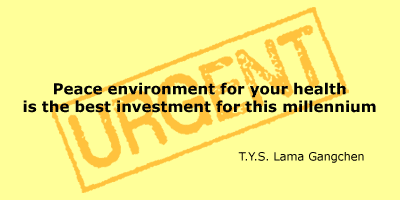 Friday the 3rd of June
16h00 Opening Ceremony
Presentation of United Nations Member States national flags
Welcoming address by the authorities and inaugural prayers for world peace and in celebration of this year's Vesak by representatives of different world spiritual and religious traditions with a particular dedication to the indelible memory of H.H. Pope John Paul II
18h00 Keynote & Special Guest Speakers
19h00 Cocktail and musical entertainment
Saturday the 4th of June
09h00 "EDUCATION" ENVIRONMENT FOR YOUR HEALTH
T.Y.S. Lama Gangchen - Italy
Keynote & Special Guest Speakers
Chairpersons:
Prof. Silvia Magistrini & Prof. Charles Mercieca
Eng. Luigi Airoldi - Italy
Preserving our surrounding environment to save the future
of our communities

Dr. Nina Lynn Meyerhof - USA
Youth and the Environment

Marie-Josè Manidi - Switzerland
The constructivist attitude

Joaquín Leguia - Peru
Children's lands: a path to sustainable wellbeing

Dr. Josef de Ubaldo - Philippines
"Woundology" - healing the wounds within

Jacqueline Ripstein - Mexico
The arts, science, creativity and vibrations
11h30 "MEDIA" ENVIRONMENT FOR YOUR HEALTH
T.Y.S. Lama Gangchen - Italy
Keynote & Special Guest Speakers
Chairpersons:
Dr. Antonella Di Leo & Dr. Claudio Zella
Marco Columbro - Italy

Dana Iujoki - Australia
Creating our New Reality

Freddy Ehlers - Ecuador
The silent revolution: The need of silence to obtain harmony with mother Nature

Felix S. T. Chen - Taiwan

Sunny Kuo - USA
15h00 "SCIENCE" ENVIRONMENT FOR YOUR HEALTH
T.Y.S. Lama Gangchen - Italy
Keynote & Special Guest Speakers
Chairpersons:
Prof. P.R. Trivedi - India (Special Guest)

Prof. Luigi Zanzi & Dr. Patrizia Tursini
Prof. Charles Mercieca - USA
Good Health Through Environmental Protection

Dr. Tiziano Pera - Italy
The intimate mystery of the world

Dr. Ruedi Schneider – Switzerland
Environment my Love! Without environment I do not exist –
there is no reference to existing…

Dr. Rogier Hoenders - The Netherlands
Inner and Outer Environment in relation to Psychiatry

Etta Sara Kantor - USA
Vegie Car, a Vehicle to Environmental Sanity

Dr. Patricia Rife - USA
Einstein's views on World Peace

Dr. Marco Del Grande - Italy
The Human Antenna

Dr. Giuseppe Spinetti - Italy
Sustainable Development, mind ecology, environmental ecology: a technological and scientific development in harmony with living beings and the environment

Dr. Emilio Padoa-Schioppa - Italy
Landscape Ecology: a 'local' strategy for the wardship of environmental integrity
Sunday the 5th of June – United Nations International Environment Day
09h00 "ECONOMY" ENVIRONMENT FOR YOUR HEALTH
T.Y.S. Lama Gangchen - Italy
Keynote & Special Guest Speakers
Chairperson:
Prof. Alfredo Sfeir Younis
Lana Yang - USA
Peace Environment is the Best Investment of Our Future Generations

Dr. Marika Spezia - Italy
Local Agenda 21 Forum of Verbania - Sustainable Development

Dr. Mauro Croce - Italy

Dr. Franco Ceccarelli - Italy

Sesto Giovanni Castagnoli - Switzerland
Spiritual Bank: Towards a powerful spiritual community

Claudia Martinez - Colombia
Economics, Environment and Ethics

Pascal Liu - France
Reconciling agricultural production and the environment:
overview of the development of organic farming in the world
- with the tecnical support of FAO
11h00 "SPIRITUALITY" ENVIRONMENT FOR YOUR HEALTH
Guest of Honour - Venerable Phrabhavanaviriyakhun Dattajeevo Bhikkhu
T.Y.S. Lama Gangchen - Italy
Keynote & Special Guest Speakers
Chairpersons:
Lama Michel & Marco Columbro
Fermin Gomez - Guatemala
Ancient Maya tradition: its influence on Sustainable Development

José Sebastián Jansasoy - Colombia
Indigenous People – A Wisdom that is Becoming Extinct

Claudia Sobrevila - Venezuela
The importance of preserving sacred sites for the well being of human beings

Fernanda Tosco - Italy
Non-violence: an ecological and anthropological necessity

Javier Helou - Argentina
The contribution of Saint Francis of Assisi
to the environmental problem

Dott. Luciano Zambotti - Italy
Shamanic cultures between spirituality and nature
15h00 Conclusions
Reading and signaturing of the "Verbania 2005" Declaration

Closing: United Nations Member States flags Ceremony dedicated to environmental and world peace.
Workshops and exhibits during Congress time
Simultaneous Translation - English - Italian - Chinese
Inner Peace Environment - Outer Peace Environment
For your health now and forever
With the attention of all Human Beings
With the blessings of all Holy Beings

T.Y.S. Lama Gangchen

A request for teachers' exemption from instruction has been made to the Ministry of Education to cover the congress days. A participation certificate will be issued.