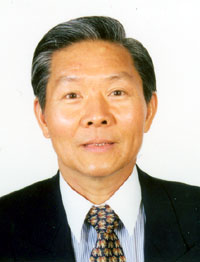 Dr. Tom Wu was born in China. He learned the Chinese healing art since his childhood with a grandmaster famous in bipolarity healing in his country.
He studied the Western conventional medicine in France and received a M.D. in pathology from the University of Bordeaux and a MD in Medica Alternativa from Open International University, Columbo, Sri Lanka. He returned to China to serve his countrymen and learned more Q́gong and oriental healing methods including a special modality to treat and heal the diabetes.
He came to the United States to study nutrition at American Health Science University and became a licensed certified nutritionist. He attended Clayton College of Natural Health and received his doctorate degree of Naturopathy and a Ph.D. in Nutrition from American Holistic College of Nutrition.
He also holds a doctorate degree in Natural Medicine (NMD) and is a board certified Naturopathic Physician, and a Federal Registered Naturopath and practices at Wellness Selfcare Center in San Carlos, California, U.S.A.
He combines his knowledge of ancient Chinese healing art with the science of Western medicine in his practice to help his patents. He is able to use a special gifted skill to emit high level of Qi to seen in minutes the early warning signs and symptoms indicating the nutritional deficiency and organs dysfunction's from 5 to 10 years before the clinical manifestation of disease! He always says that no any wonder drug can cure any disease except our own internal healing power of the immune system inherited from our loved Father mighty God. In case of pains like carpal tunnel syndrome, bursitis, tendentious, sciatic nerve pain, migraine headache, backache, Dr. Wu can use Qi to open up the blockage of meridian channels and set you free of aches and pains within minutes.
He strongly believes that doctors of the future should reduce prescriptions and encourage lifestyle change for patients and integration of a prognostic screening profile which allows for early recognition of an organ's nutritional unbalance and dysfunction through preventative care: an ounce of prevention is worth a pound of medicine! He also believes that all doctors should strive to learn all the healing arts including Holy Spirit Healing and prayer to helping patients to recover quickly from illness through personal cage instead of disease care, through warm love and care instead of insensible cold high tech procedures, because our body is a physical, psychological and spiritual entity.
Dr. Wu can pinpoint a specific dietary pattern to improve a person's health according to the law of Mother Nature. Since each person has his or her own individual characteristics, so the dietary pattern may be different from each individual according to his/her yin yang deficiencies.
He is an international natural health speaker, educator and professor.
He travels extensively in the United States, Asian and European countries and help tens of thousands of patents who were suffering from either diabetes, heart disease, arteriosclerosis, hypertension, arthritis, cancer or other chronic diseases... and following his diet advice, are able to reverse their disease and back to normal life and enjoy a happier, longer, healthier life with then families.
Dr. Wu has held and hold the following positions.
President of Chinese Wai Tan Kung – Nei Tan Kung Association (U.S.A.)

President of Selfcare Research Center, San Francisco, U.S.A.

Director of Wellness Selfcare Center, San Carlos, California, U.S.A.

Founder of CBN Flying Hospital, Virginia Beach, Virginia

Visiting Professor for the Open International University Sri Lanka

Visiting Professor for De La Salle University of Medicine, Philippines

Visiting Professor for Indian Academy of Acupuncture Science

Itinerary Professor for Hei Long Jiang Traditional Chinese Medicine, China

Member of Natural Health Federation, U.S.A.

Member of American Naturopathic Medical Association, U.S.A.

Member of Society of Certified Nutritionist, U.S.A.

Member of National Nutrition and Foods Association, U.S.A.

Member of St. Mary's Hospital, San Francisco, U.S.A.

Member of Sequoia Hospital, Redwood City, U.S.A.

Member of American Cancer Society

Member of The American Association of Nutritional Consultants

Partners of St. Jude Children's Research Hospital

Partners of Diabetic Research Center, U.S.A.

Member of Heart Association, U.S.A.

Partners of Arthritis Foundation, U.S.A.
He is speaker for a lot of universities, hospitals, government-sponsored health organizations all over the world. Due to his remarkable efforts to the public worldwide, Dr. Wu received numerous awards, medals, and appreciation letters from all over the world, such as:
The Albert Schweitzer Price for Medicine Award

Humanity Health Service Contribution Award

2000 Yellow Emperor Award - Physician of the Century

Inner & Outer Environment World Healthcare Award

Outstanding contribution awarded by the Chinese Overseas Commission

Remarkable contribution awarded by the Chinese Acupuncture Association

Certificate of Excellence for Humanitarianism and Philanthropy

Remarkable Contribution Awarded by American Cancer Society

Appreciation Awarded from Atascadero State Hospital

Outstanding Contribution Award from Mayo Clinic

Outstanding Contribution Award by Health Sciences Campus University Medical Center

Also gold metals, trophies and appreciation letters from other countries such as: Malaysia, Singapore, Taiwan, China, Thailand, Hong Kong, Sri Lanka, India, Pakistan, Germany, France, Belgium, Holland, Greece, Denmark, Finland, Britain, Spain, Canada, Australia, Africa, etc...

Hall of Fame Award from Texas State Naturopathic Medical Association

Community Service Award from CAM Committee-SFO

World Famous Doctor Award from United Nations-NGO

Highest Gold Ox Award for outstanding achievement to Natural Medicine-Beijing